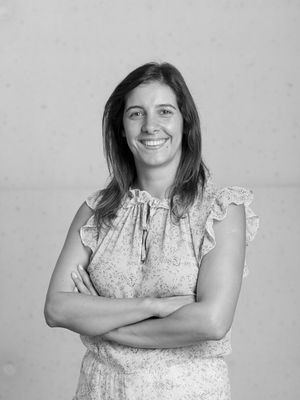 Molecular Biology
Core Facility
Single-cell
Genotyping
qPCR
Multiplexing
Mycoplasma detection
COVID-19 diagnosis
Eduarda Correia, MSc in Biochemistry – specialized in Clinical Biochemistry from University of Aveiro, has been a member of our Core Facility since 2015. Nowadays, while managing the Molecular Biology Facility, she provides support and consultancy in this field of knowledge to researchers working at ICVS. As a starting member of the COVID-19 diagnosis team, Eduarda has successfully published a low-cost qPCR method for the accurate detection of SARS-CoV-2. She also participated in the design of a SOP, supervised, and coordinated one of the taskforce's teams created in ICVS, to assist the National Health System in the detection of this virus.
Currently, Eduarda is interested in the ever-growing Single Cell analysis field, hoping to assist researchers to deconstruct the complexity of biological systems, understanding the differences among cellular populations, its heterogeneity and developmental expression profiles at a single-cell level.
Scientific Highlights
Papers: Carvalho-Correia E, Calçada C, Branca F, Estévez-Gómez N, De Chiara L, Varela N, Gallego-García P, Posada D, Sousa H, Sousa J, Veiga MI, Osório NS. (2021) OmniSARS2: A Highly Sensitive and Specific RT-qPCR-Based COVID-19 Diagnostic Method Designed to Withstand SARS-CoV-2 Lineage Evolution. Biomedicines 9(10):1314. doi: 10.3390/biomedicines9101314
Mesquita, AR, Belsky J, Li Z, Baptista J, Carvalho-Correia E, Maciel P, Soares I (2015) Institutionalization and indiscriminate social behavior: Differential-susceptibility versus diathesis-stress models for the 5-HTTLPR and BDNF genotypes. Physiology&Behavior. doi: 10.1016/j.physbeh.2015.09.015
Pinto R, Soares I, Carvalho-Correia E, Mesquita AR (2015) Gene-Environment interaction in early psychopathology: A systematic review. Psychiatric Genetics. doi: 10.1097/ypg.0000000000000106
Moura RS ¥, Carvalho-Correia E ¥, daMota P, Correia-Pinto J (2014) Canonical Wnt Signaling Activity in Early Stages of Chick Lung Development. PLoS ONE 9(12): e112388. doi.org/10.1371/journal.pone.0112388 ¥ These authors contributed equally to this work