ICVS Advanced Seminar "Decoding Neuropeptide Neuromodulation in Motivated Behaviors"
October 4 @ 1:00 pm

-

2:00 pm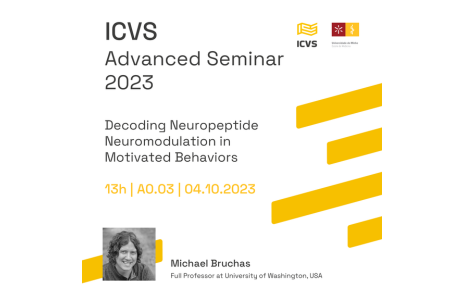 Don't miss Michael Bruchas "Decoding Neuropeptide Neuromodulation in Motivated Behaviors"at the A0.03 auditorium in UMinho's School of Medicine.
Michael Bruchas laboratory studies molecular, cellular and system's level dissection of neuromodulatory circuits in affective behaviors (e.g., reward-aversion, addiction, anxiety-depression, stress, pain). The laboratory uses multidisciplinary approaches including: optogenetic, molecular-biochemical, pharmacological, physiological, in vivo imaging, and computational methods. The lab is actively engaged in bioengineering methods to develop optically-sensitive signaling tools and wireless opto-electronics for detecting-modulating neuronal activity in behaving animals.
Prof Bruchas has an extensive publication record exceeding 100 publications, containg seminal and top-tier contributions to the fields of neuroscience, with a particular focus on addiction, pain, and stress research.