ISN Satellite Workshop Astrocytic Control of Brain Circuits and Behavior
August 5 @ 1:00 pm

-

August 6 @ 3:00 pm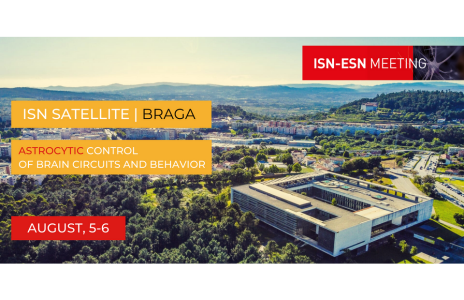 Chairs
João Filipe Oliveira, Braga, Portugal
Christian Henneberger, University of Bonn, Germany
Scientific description
Recent technological developments allowing specific manipulation of astrocytes in behaving animals created a new research field aiming to dissect the role of astrocytes in higher brain functions. Neuron-glial networks display a surprising degree of complexity, where astrocyte neurochemical signaling modulates neuronal circuit function. This dialogue at the cellular level is reflected in the network outputs, thereby affecting the production of behavior.
This satellite event will gather experts to discuss the contribution of the underlying astrocyte physiological mechanisms to this equation: molecular, morphological, metabolic, and functional heterogeneity; and the balance between focal and global calcium astrocyte activity.
This diverse panel will also ensure a stimulating discussion based on various opinions and approaches to tackle the common goal of understanding astrocyte modulation of neural circuits and behavior.
Speakers
Alfonso Araque – University of Minnesota, USA
Amit Agarwal – Heidelberg University, Germany
Annalisa Scimemi – University at Albany, USA
Audrey Denizot – Okinawa Institute of Science and Technology, Japan
Axel Nimmerjahn – Salk Institute, USA
Chris Dulla – Tufts University, USA
Christian Henneberger – Institute of Cellular Neurosciences, University of Bonn, Germany
Gertrudis Perea – Cajal Institute, Spain
Inbal Goshen – The Hebrew University, Israel
João Filipe Oliveira – ICVS, School of Medicine, University of Minho, Braga, Portugal
Matthew Holt – i3S, Porto, Portugal
Rune Enger – University of Oslo, Norway
Ruth Beckvordersandforth – Friedrich-Alexander-Universität, Germany
Tommaso Fellin – Instituto Italiano di Tecnologia, Genova, Italy
Yukiko Goda – RIKEN Center for Brain Science, Japan
Deadlines:
Registration is open!
Early Bird Registration: April 28
Regular Registration: July 14
Further information here:
https://b-acis.pt/workshops/isn-satellite-astrocytic-mechanisms/