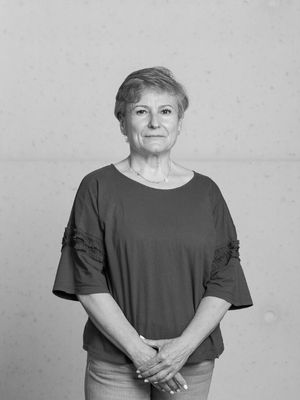 Histology
Immunohistochemistry
Confocal Microscopy
Lab management
Lucília Goreti Ribeiro Pinto owns a Master in Sciences degree in Molecular and Cellular Biology (University of Aveiro, 2010) and an Undergraduate degree in Biological Engineering (University of Minho, 2000) and a degree in Biomedical Sciences in Histocellular Pathology (Higher School of Health Technology of Porto, 2002). She is a Head-technician at the Medical School/ Life and Health Sciences Research Institute (EM/ICVS) since 2005. Lucília previously worked as a lab technician at the São Marcos Hospital in Braga from 1990 to 2005 and at the Portuguese Institute of Oncology of Porto from 1986 to 1990. She runs the Optical Microscopy facility and the Laboratory of Services (Histology and Molecular Biology), is involved in the planning and organization of these facilities, as well as in their management, also giving specialized training in optical and confocal microscopy for researchers and technical staff. She provides a specialized support in several technical procedures in confocal microscopy, histology and immunohistochemistry and shares responsability in the management of the Supply Center of goods for the ICVS teams. She plays a role in the general laboratory management, collaborating in the acquisition and maintenance processes of equipment and in the establishment and implementation of working and safety regulations and waste management.
Scientific Highlights
C Dioli, P Patrício, R Trindade, L G Pinto, J M Silva, M Morais, E Ferreiro, S Borges, A Mateus-Pinheiro, A J Rodrigues, N Sousa, J M Bessa, L Pinto, I Sotiropoulos.Tau-dependent suppression of adult neurogenesis in the stressed hippocampus. Mol Psychiatry. 2017 Aug;22(8):1110-1118
Chrysoula Dioli, Patrícia Patrício, Lucilia-Goreti Pinto, Clemence Marie, Mónica Morais, Sheela Vyas, João M Bessa, Luisa Pinto, Ioannis Sotiropoulos.Adult neurogenic process in the subventricular zone-olfactory bulb system is regulated by Tau protein under prolonged stress. Cell Prolif . 2021 Jul;54(7):e13027. doi: 10.1111/cpr.13027. Epub 2021 May 14
Sotiropoulos I, Catania C, Pinto LG, Silva R, Pollerberg GE, Takashima A,Sousa N, Almeida OF.Stress acts cumulatively to precipitate Alzheimer's disease-like tau pathology and cognitive deficits. J Neurosci. 2011 31:7840-7.
Pêgo JM, Morgado P, Pinto LG, Cerqueira JJ, Almeida OF, Sousa N. Dissociation of the morphological correlates of stress-induced anxiety and fear. Eur J Neurosci. 2008 27:1503-16.