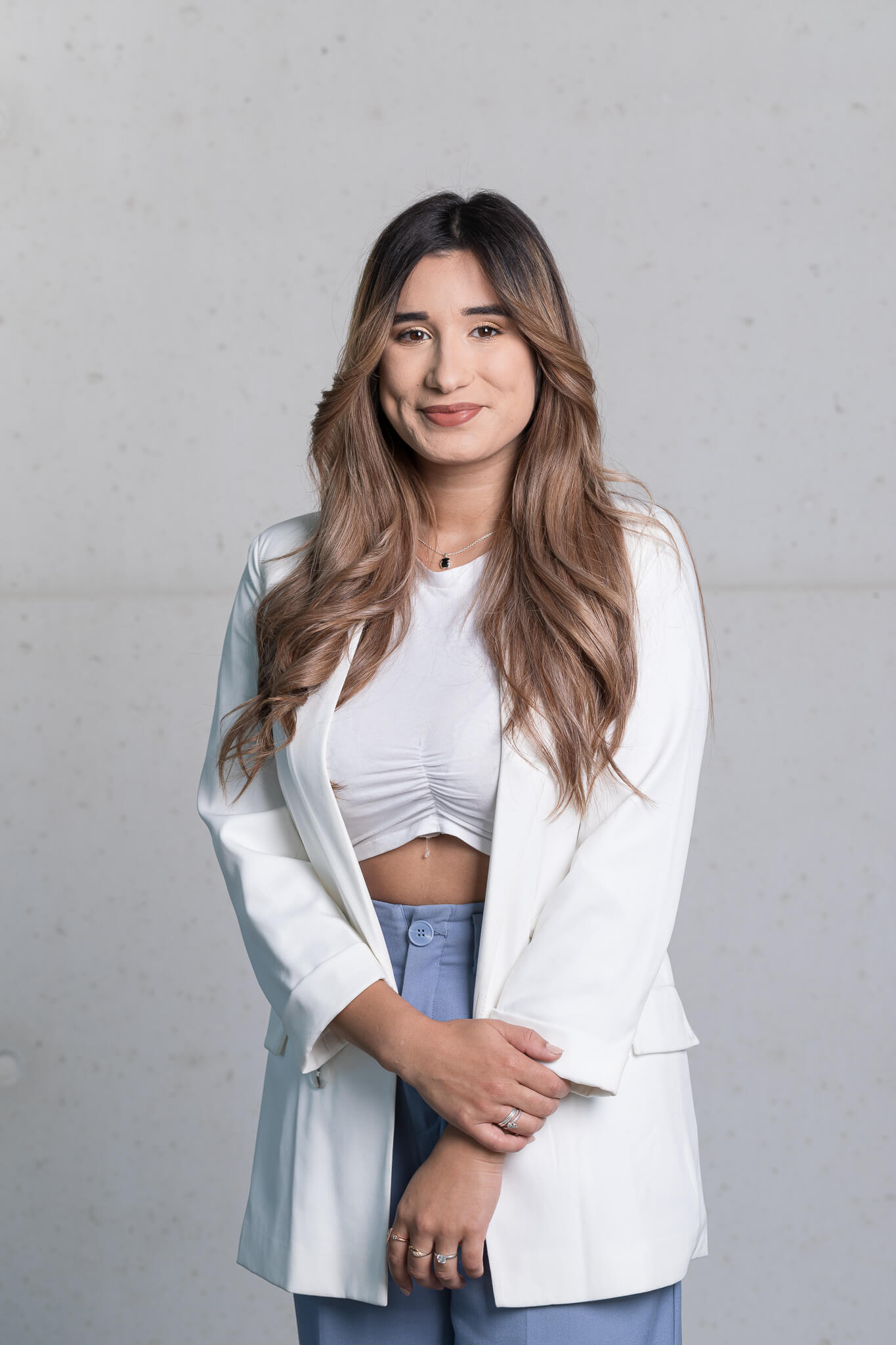 Oncobiology
Aggressive cancers
Breast cancer
Renal Cell Carcinoma
Targeted Therapies
Innovative treatment options
Mónica Cerqueira holds a degree in Biochemistry from the University of Minho (2019) and a Master's degree in Health Sciences, at the School of Medicine – University of Minho (EM-UMinho), with a final grade of 19 (out of 20) on the thesis project. During this last academic year, Mónica was a researcher at the Life and Health Sciences Research Institute (ICVS), EM-UMinho, and at the International Iberian Nanotechnology Laboratory (INL). The main focus of her master thesis was the full pre-clinical validation (in vitro and in vivo) of a novel biocompatible theranostic probe activated in the tumor site, through a magnetic field. This work had financial support from the Foundation for Science and Technology (FCT) – project PTDC/BTM-SAL/31142/2017. Mónica is a researcher at the ICVS, focusing her interest on the study of novel synthetic molecules as targeted agents against triple-negative breast cancer and renal cell carcinoma. Since September of 2022, she is a PhD student in the doctoral program of Health Sciences in University of Minho, being awarded with a PhD grant from FCT. During her academic path, Mónica published 1 review article (IF=6.321, Q1) as the first author and presented several conference posters at national and international scientific congresses, and a oral comunication at national congress.
Scientific Highlights
Papers:
1.Cerqueira, Mónica; Belmonte-Reche, Efres; Gallo, Juan; Baltazar, Fátima; Bañobre-López, Manuel. "Magnetic Solid Nanoparticles and Their Counterparts: Recent Advances towards Cancer Theranostics". Pharmaceutics 14 3 (2022): 506. http://dx.doi.org/10.3390/pharmaceutics14030506.
10.3390/pharmaceutics14030506
Conference Posters:
1.Cerqueira, Mónica; Belmonte-Reche, Efres; Costa, Marta; Baltazar, Fátima; Gallo, Juan; Bañobre-López, Manuel. "In vitro validation of a new magnetic solid lipid nanoformulation against Triple-Negative Breast Cancer". Paper presented in II ASPIC-ASEICA International Meeting – Current Trends in Precision Medicine in Cancer, 2021.
2.Cerqueira, Mónica; Belmonte-Reche, Efres; Costa, Marta; Baltazar, Fátima; Gallo, Juan; Bañobre-López, Manuel. "Validação de uma nova nanoformulação direcionada para o diagnóstico e tratamento do cancro da mama triplo-negativo". Paper presented in 3º Encontro nacional de Jovens Investigadores em Oncologia, 2021.
3.Cerqueira, Mónica; Belmonte-Reche, Efres; Costa, Marta; Baltazar, Fátima; Gallo, Juan; Bañobre-López, Manuel. "In vitro validation of new theranostic nanoformulation against Triple-negative breast cancer". Paper presented in 27th Porto Cancer Meeting, 2021.
4.Cerqueira, Mónica; Belmonte-Reche, Efres; Costa, Marta; Baltazar, Fátima; Gallo, Juan; Bañobre-López, Manuel. "In vitro validation of a new magnetic formulation against Trile-negative breast cancer". Paper presented in EuroNanoForum 2021, 2021.
Oral comunication:
1. Cerqueira, Mónica; Belmonte-Reche, Efres; Gonçalves, Céline; Costa, Marta; Rainha, Raquel; Gallo, Juan; Bañobre-López, Manuel; Baltazar, Fátima. "Treatment of triple-negative breast cancer using externally activated solid-lipid nanoparticles". Oral communication present in 4th National Meeting of Young Researcher in Oncology, 2022.
Awards:
1. PhD scholarship granted by FCT in 2022 (2022.10233.BD)