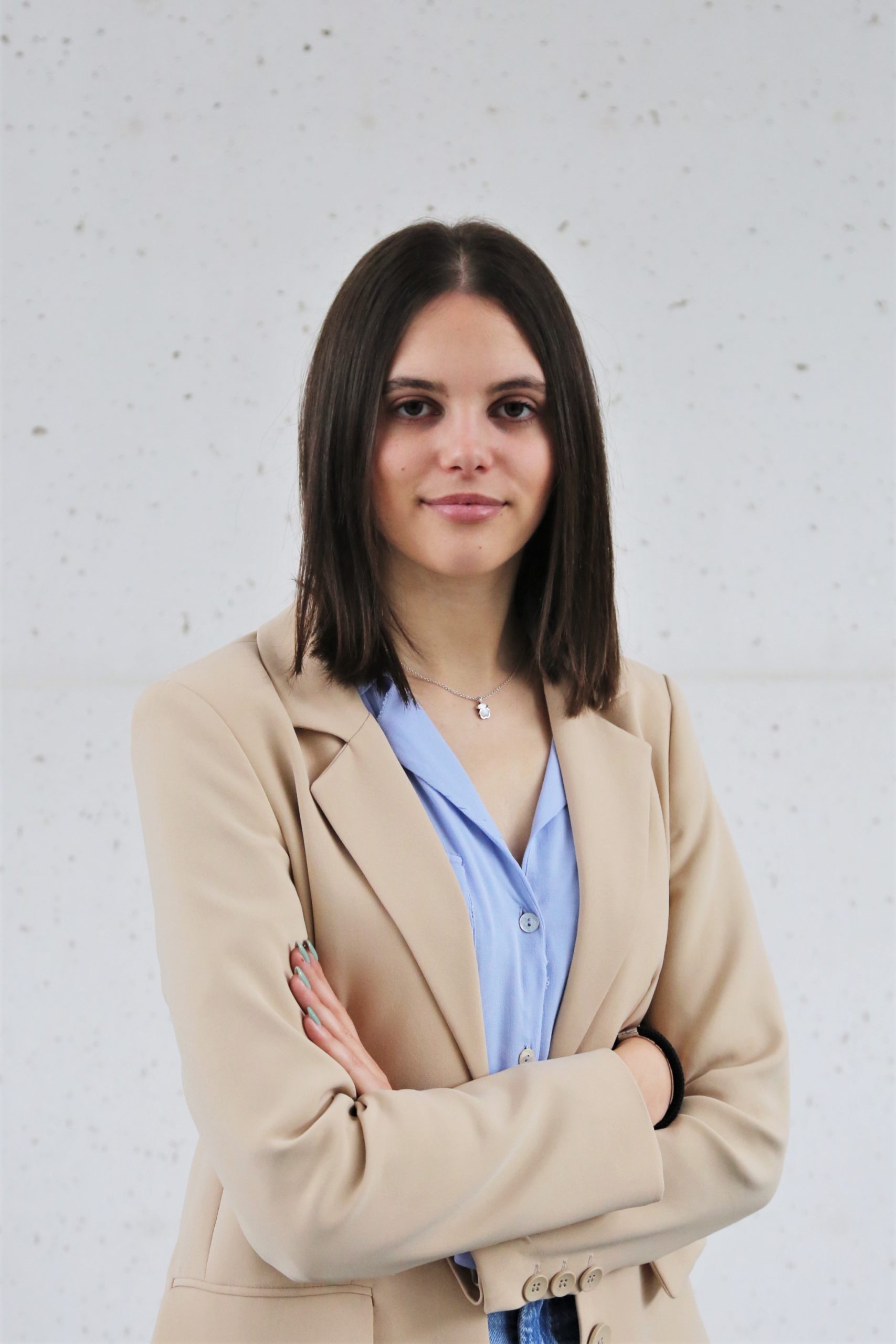 Medicinal chemistry
organic synthesis
oncobiology
computational screening
aggressive cancers
triple negative breast cancer
innovative treatment options
targeted therapies
Sofia Sousa graduated in Biochemistry by the University of Minho (2019), with a final grade of 17 out of 20, and holds a master`s degree in Pharmaceutical Chemistry by the University of Porto – Faculty of Pharmacy (2021), with a final grade of 17 out of 20. During the master`s degree, her work was presented in several science conferences as 3 oral presentations and 4 conference posters. Sofia has a multidisciplinary profile, with experience in molecular docking, molecular biology and organic synthesis. She is currently a PhD student in the doctoral program of Health Sciences in University of Minho, where she was awarded with a PhD grant funded by FCT.
Scientific Highlights
Conference Posters:
1. Cristina P. R. Xavier; Sofia Sousa; Helena Branco; Lúcio Lara Santos; Andreia Palmeira; Maria Helena Vasconcelos. "Efeito sensibilizador da darifenacina a agentes citotóxicos no cancro pancreático: estudo in silico e em linhas celulares". Paper presented in 4th National Meeting of Young Researcher in Oncology, 2022.
2. Cristina P.R. Xavier; Andreia Palmeira; Sofia Sousa; Helena Branco; Dylan Ferreira; Lúcio L. Santos; Maria J. Oliveira; M. Helena Vasconcelos. "TargetingChitinase-like-1 (CHI3L1) as a therapeutic target for pancreatic cancer". Paper presented in II ASPIC-ASEICA International Meeting – Current Trends in Precision Medicine in Cancer, 2021.
3. Cristina P.R. Xavier; S. Sousa; H. Branco; Lúcio L. Santos; A. Palmeira; M. Helena Vasconcelos. "Targeting chitinase 3-like 1 in pancreatic cancer: in silico identification of inhibitors from a DrugBank database and confirmation of growth inhibition effect in cell lines". Paper presented in XXVII Encontro nacional da Sociedade Portuguesa de Química, 2021.
4. Cristina P.R. Xavier; A. Palmeira; S. Sousa; Inês Castro; Hugo R. Caires; Dylan Ferreira; Bruno Cavadas; et al. "Identification of Chitinase 3-like 1 as a therapeutic target for pancreatic cancer in large extracellular vesicles from human macrophages". Paper presented in SNEV 2021 (Student Network on Extracellular Vesicles), 2021.
5. Sousa, S.I.; Xavier, C.P.R.; Vasconcelos, M.H.; Palmeira, A. "Virtual screening of known drugs in search of inhibitors of CHI3L1 for the treatment of pancreatic cancer". Paper presented in 14th Meeting of Young Researchers of University of Porto, 2021.
Oral Presentation:
1. Cristina P.R. Xavier, Sofia Sousa, Andreia Palmeira, Helena Branco, Dylan Ferreira, Lúcio L. Santos, Maria J. Oliveira, M. Helena Vasconcelos. 2021. Chitinase 3-like-1 (CHI3L1) as a potential therapeutic target for pancreatic cancer. Serbian Association for Cancer Research – SDIR, December 3.
2. Cristina P.R. Xavier, A. Palmeira, S. Sousa, H. Branco, Inês Castro, Hugo R. Caires, Dylan Ferreira, Lúcio L. Santos, Maria J. Oliveira, M. Helena Vasconcelos. 2021. Chitinase 3-like-1 found in the cargo of large extracellular vesicles released by human macrophages: potential therapeutic target for pancreatic cancer. 1ST Meeting of the Portuguese Network on Extracellular Vesicles, September 13-14.
3. Cristina P.R. Xavier, A. Palmeira, S. Sousa, Inês Castro, Hugo R. Caires, Dylan Ferreira, Bruno Cavadas, Luisa Pereira, Lúcio L. Santos, Maria J. Oliveira, M. Helena Vasconcelos. 2021. Identification of Chitinase 3-like 1 (CHI3L1) as a therapeutic target for pancreatic cancer present in large extracellular vesicles from human macrophages. III International AICC Exosome meeting, June 7-8.
Awards:
1. PhD scholarship granted by FCT in 2022 (2022.11395.BD)